Mario Espina & Associates, Inc.
Protection Services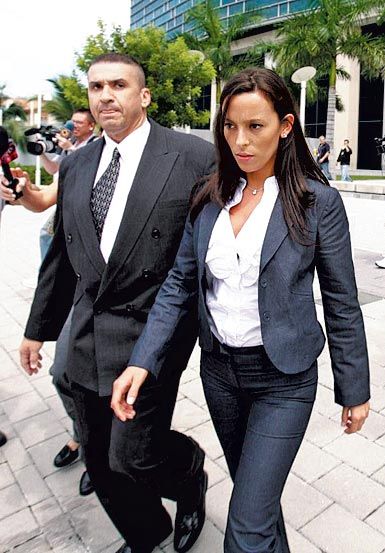 Pin-up girl Telpuk leaves court in Miami on Friday with her bodyguard Mario Espina. Photograph: David Adame/AFP
Rory Carroll in Caracas, The Observer, Sunday October 5, 2008. The 'suitcase girl' who discovered $800,000 in cash and ignited a political scandal across South America - then capitalised on it to forge a career as a Playboy pin-up - has relived her moment of glory in a Miami courtroom.
María del Luján Telpuk, 28, an Argentinian former airport security officer, is testifying in court about the moment she intercepted a suitcase and provoked a row between the governments of Argentina, Venezuela and the US. Claims of high-level corruption, cover-ups and vendettas have followed and commentators have dubbed the scandal 'Maletagate'; maleta is Spanish for suitcase.
We protect more than you…
It may be you, your family, your health, your reputation, your employees or your client.
It may be your home, your assets, your business or your event.
We protect more ways than most…
Our Close Protection (Bodyguard) team custom designs your close (personal) protection detail to meet the unique needs of the engagement.  We carefully select the investigator based on their tactical skills, training, prior experience, and gender while determining the physical placement, transportation and coverage ratios.
We protect more times with less notice…
Protection needs often arise without warning.  Our extensive and advanced planning permits us to provide highly trained investigators with minimal notice when necessary.
Usually we can respond to your situation within the same day, if not within hours.
We protect when "Security Guards" are just not up to the task…
Our highly trained and experience investigators provide armed plainclothes protection for your high-end jewelry, valuables (art), estate, residential and commercial properties.  We also provide these services for art shows, private parties and events.  This service is NOT Close Protection (Bodyguard) service.  This service is for items, property, security and safety of all persons at an event or party.
We protect more clients because of our reputation…
A significant portion of our business derives from professional referrals from previous clients.  We pride ourselves on our professionalism and reliability.  Our strict adherence to confidentiality gains us the trust of our clients and those who subcontract our services.